About
Professional Eye Care
At Professional Eye Care, your vision and eye health is our top priority. We want you to be fully satisfied with our professional assessment of your eye care needs and our selection of vision products and services. The continuity of care which we provide within every facet of your patient experience will help you and your family truly enjoy the gift of sight.
Welcome to Professional Eye Care , which celebrates 25 years in business in 2018 !You will find personalized service, an experienced Doctor of Optometry as well as experienced optician, and over 1,000 quality frames from which to chose. Our success with contact lenses is unparalleled for patients of all ages and vision needs.
Dr. James Costello is a 1983 graduate of the Illinois College of Optometry. As an independent optometrist and owner of Professional Eye Care, Dr. Costello provides state of the art eye exams utilizing up to the minute technology. Dr. Costello assesses and treats diseases of the eye as well as spends as much time as necessary in order to insure the patient's vision is as perfect as possible for day to day living . Should contact lenses be desired, Dr. Costello presents the best options to the patient. He is certified in specialty lenses like hybrid and scleral contact lenses. Dr. Costello treats many eye emergencies, infections, and dry eye problems in a manner consistent with his experience.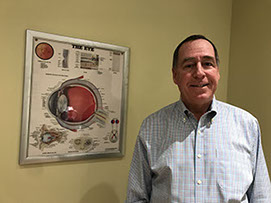 Angela Tzveyn, F.N.A.O. has been an Optician for Professional Eye Care since 1993. She is certified through the National Academy of Opticianary and will create your eyeglasses on site to your specific vision needs. Edging, polishing, assembling, fitting, combine with her talent of assisting you in finding that perfect frame for your face, your style, and your life. Along with this, education for the care of your glasses and contact lenses is always provided to insure that you know how to care for your eyewear. Any future adjustments , repairs, or even helping you pick out a second pair of glasses or sport and sunwear are all within Angela's forte.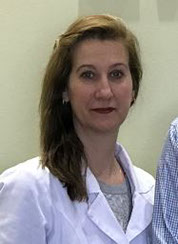 Denise Costello is a graduate of Loyola University of Chicago with a B.S.N.and M.S.N. You will see Denise at Professional Eye Care on Saturdays and part-time during the week. She will help you with your frame selection, teach you about your contact lenses, and instruct you how to care for both your glasses and contacts. Denise enjoys changing the seasonal displays and makes sure the office provides for your safety, comfort, and convenience.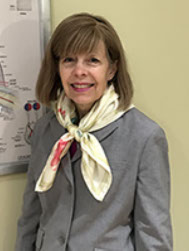 " Please welcome our new Optician, Liz! She is here Monday through Friday, 10am - 5pm ,to help you with your optical needs! Our Optician Angela is here, also, Tuesday and Thursday mornings!